IT Consultant - Ottawa, ON
We're looking for a IT Consultant to join our team in helping our clients achieve their greatest potential through the use of information technology.
About ALT Consulting
ALT Consulting is a Canadian-based IT consulting and managed IT services firm. We provide people-driven organizations with the tools they need to organize, manage, protect, and distribute information in an effective manner. Our focus is on delivering outstanding support for business-critical functions and being our clients' strategic technology resource.
With offices in Canada and the United States, we have the pleasure of working with a diverse set of clients in the healthcare, law, government, non-profit, as well as finance, engineering, and education industries across North America.
Our diverse background in software, network, and computer engineering allows us to bring unique skillsets and perspectives to managed IT services. We work closely with our clients from planning, to implementation and support, and manage each project to ensure our standard of service is being met throughout.
About the Job
During a typical morning as a IT Consultant, you will be providing technical support to our clients; helping them resolve technology problems, advising them, and working with teammates to tackle more complex issues.
At other times, you may be working on larger client projects, as well as attending site visits or deploying equipment. At ALT Consulting, we are constantly learning about new technologies and seeking out ways to improve the client experience. Therefore, as part of your role, you will be performing research, or evaluating new equipment or software to implement for clients.
For ongoing projects, you will communicate with clients and project managers to provide updates. You will also be invited to join senior staff to provide insight during sales meetings.
When you're not working on client matters, you will be contributing to our internal projects, including the development of our Small Business IT Platform with the R&D team, setting up test environments, and modifying systems to optimize their performance. In essence, you will be practicing and mastering the art of IT optimization.
As you gain knowledge and experience in different domains, you may want to specialize in a field that best suits your career path. A successful IT Consultant will be offered opportunities to specialize as a Senior IT Consultant or vCIO, Systems Administrator, Product Development Engineer, Marketing and Sales Executive, as well as Management roles.
Each day you will be empowered to be innovative, think differently, and work autonomously while challenging yourself to grow and improve.
Workstation and Office Setup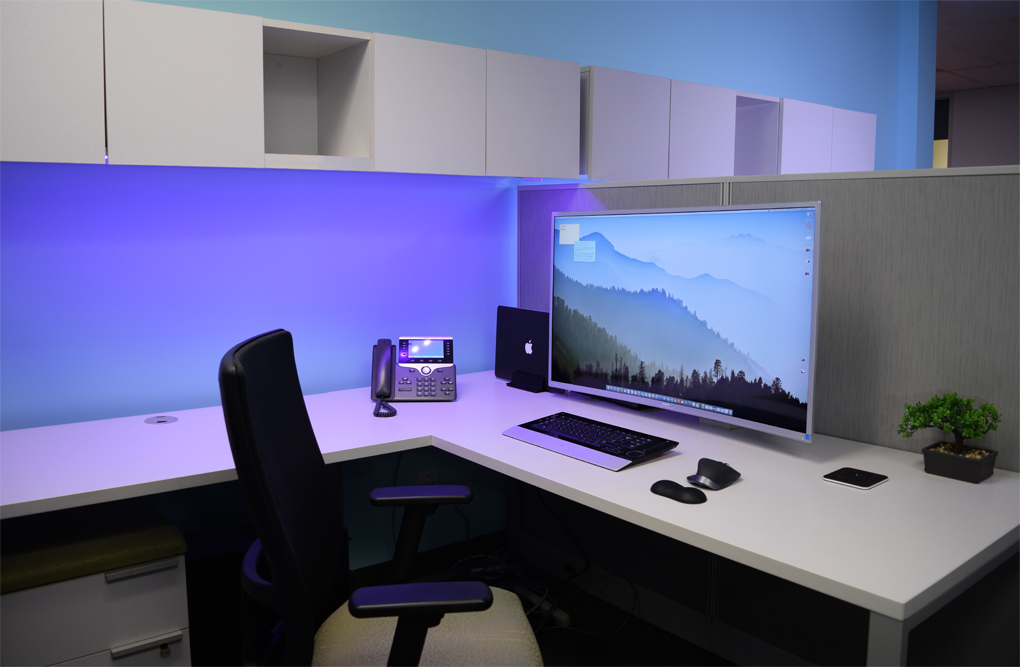 You will be well equipped to handle not only the day-to-day support challenges, but you will also play a vital role in moving key projects forward with your own advanced technology setup. When working from the office, you'll be in your own private workspace, which includes an immersive 40-inch 4K monitor, a MacBook Pro, quality peripherals, and an ergonomic desk and chair.
Responsibilities
Developing IT solutions and reports, based on sound project management methodologies

Supporting the project delivery by:

Engaging with our clients with clear and concise communication

Performing extensive research to find the best solution

Procuring IT equipment or software

Planning and executing testing

Building supporting documentation

Researching leading practices and tools

Developing and applying innovative models and methodologies

Interacting with multidisciplinary teams to support the delivery of their projects

Organizing logistics and developing supporting material for client meetings

Collaborating with team members to find the most creative and useable solution for our clients
About You
You are a perfect match for this role if you are someone who:
Has a college or bachelor's degree in an IT related field

Can work independently without supervision

Is a self-starter and is resourceful at finding solutions

Has a need to initiate projects and see them through from start to finish

Has the ability to distill clarity from complexity

Is able to succinctly communicate their approach and proposed solution

Takes ownership of problems to help clients achieve their outcomes

Has the ability to quickly understand and use new tools, software, and equipment

Can configure, deploy, and support a wide range of business IT equipment and software

Is seeking a career that is challenging and rewarding

Has empathy for client matters

Has the ability to create rapport with clients

Has a valid driver's licence

Can provide your own transportation
The following is considered an asset:
5+ years of related work experience

Experience leading IT projects and collaborating with team members to deploy IT solutions

Working knowledge and/or experience with Linux systems (configuration, troubleshooting, maintenance, virtualization)

Proficient knowledge and/or experience with networking and IT security equipment (configuration, troubleshooting, maintenance) and using VPNs

Proficient knowledge of Microsoft technologies: Windows Server, Hyper-V, Remote Desktop Services, SQL, Exchange, SCCM, Microsoft 365, Azure
How to Apply
We're truly interested to learn more about you, so in the cover letter section, please take the time to let us know why you think you would be a great fit for this position.
Even if you think you may not have all of the relevant skills or experience, but are passionate about learning and think you'll be a valuable contribution to our team, consider applying anyway. We look at all applications with a cover letter and we may have a place for you.
If you have a particular skillset or area of specialization, be sure to let us know as it will help us place you. We are interested in areas such graphic design, website design/development, software development, as well as network and security design.